ESTONIA
A Pirate in Estonia!
---
---


Kirstin
Fall 2016
University of Tartu
Tell us about yourself:
I am studying abroad at the University of Tartu in Tartu, Estonia. At ECU my major is Elementary Education and because I am unable to take education classes outside of the state of North Carolina, I am finishing up some of my General Education courses here in Tartu. I am taking a Literature course, a chemistry course, which will transfer back into my concentration for my degree, an Estonian language course that will transfer back as an elective, and an international relations course.
Why did you decide to study abroad?
I have always loved traveling and seeing the world. However, the main I decided to study abroad in Estonia, is because both of my maternal grandparents were born in Estonia and my family still has relatives that live here. I wanted to visit, see, and learn more about the culture and where I come from. The picture above is in front of the house that my grandmother, her sisters (my great aunts), and her parents (my great-grandparents) used to live in the Estonian city of Parnu before they left Estonia during the second World War.
What is the greatest challenge you have faced thus far?
Probably the time change. I am seven hours ahead of my friends and family in the USA here in Estonia. I am pretty close with my family and I used to be able to call some of my friends or parents or sister when I had breaks in between classes back at ECU. Now, if I do that, most people haven't woken up yet! It is hard for me to have to schedule every phone rather than just pick up the phone and call.
What are you really looking forward to doing this semester?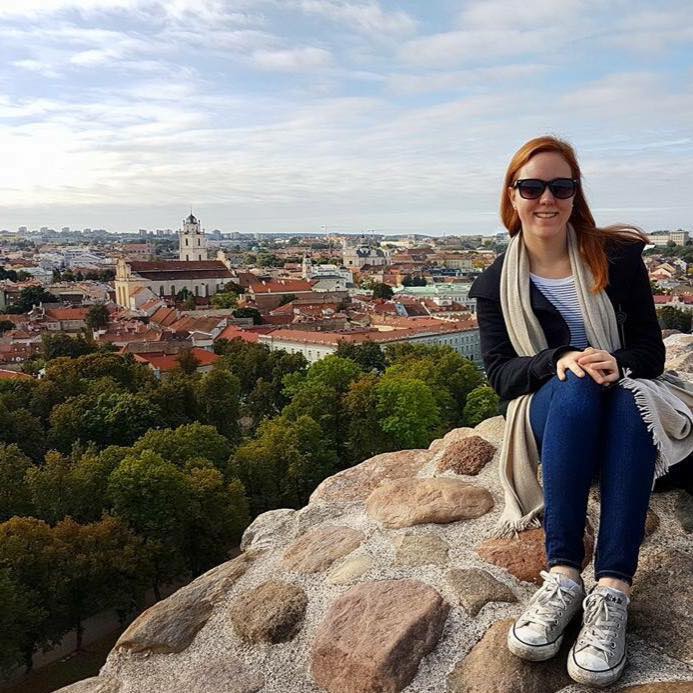 I look forward to learning more about the Estonian culture and their way of life. I also look forward to traveling around Europe. It is really expensive to buy a plane ticket to a European country from the USA, but it is really cheap and easy once you are already in the EU. The University of Tartu has a lot of other International students and/or exchange students that want to travel around on weekends so it is really easy to find a travel buddy! I have already gone to Lithuania, Latvia, and Sweden so far this semester. I also plan on visiting Finland, Belgium, Germany, and the Netherlands before I come back home in December.
The picture on the right is of me in Vilnius, Lithuania. I am sitting on the wall of the Gediminas Tower, which is placed up high on the hill on the outskirts of the city. It gives a great view of the Vilnius from there.